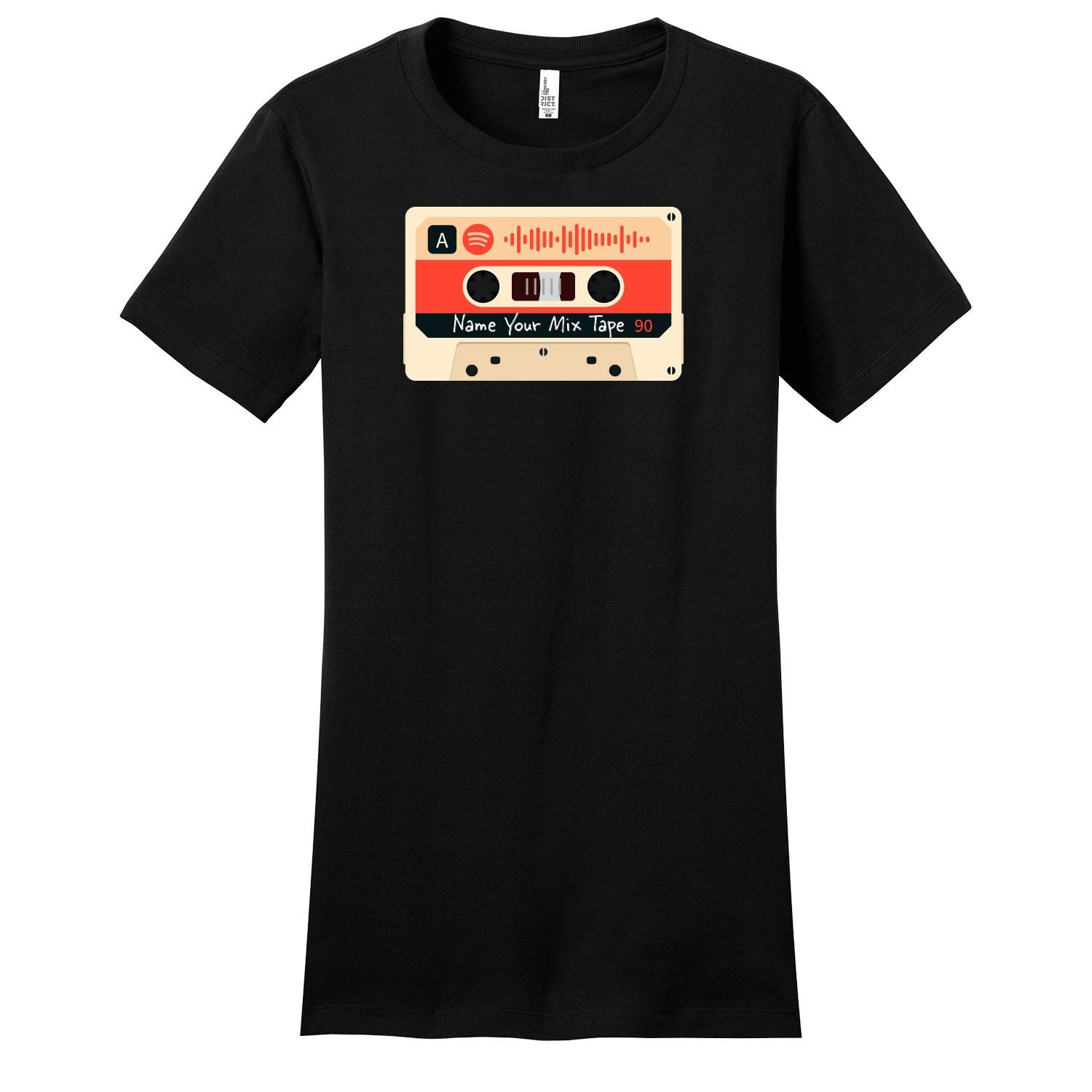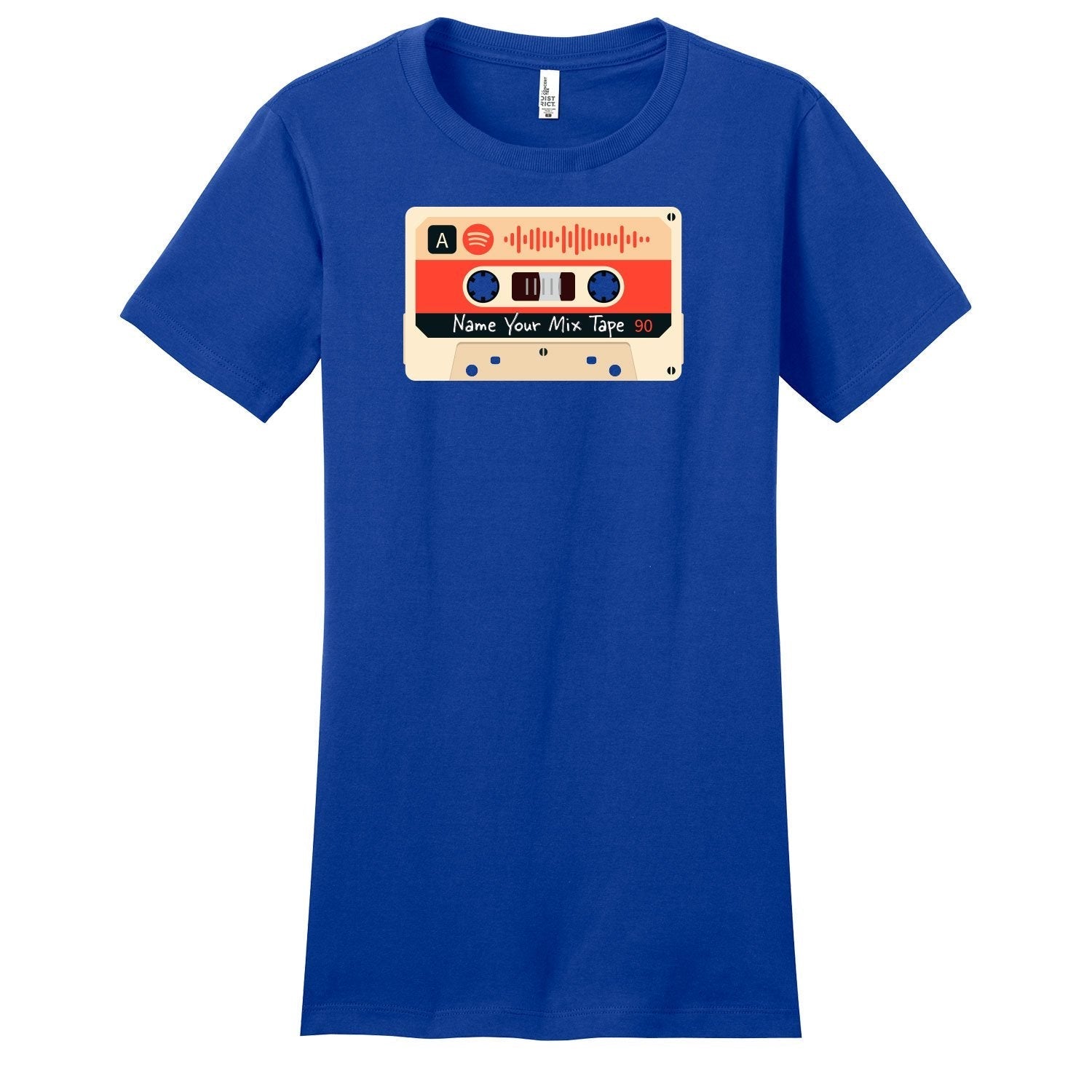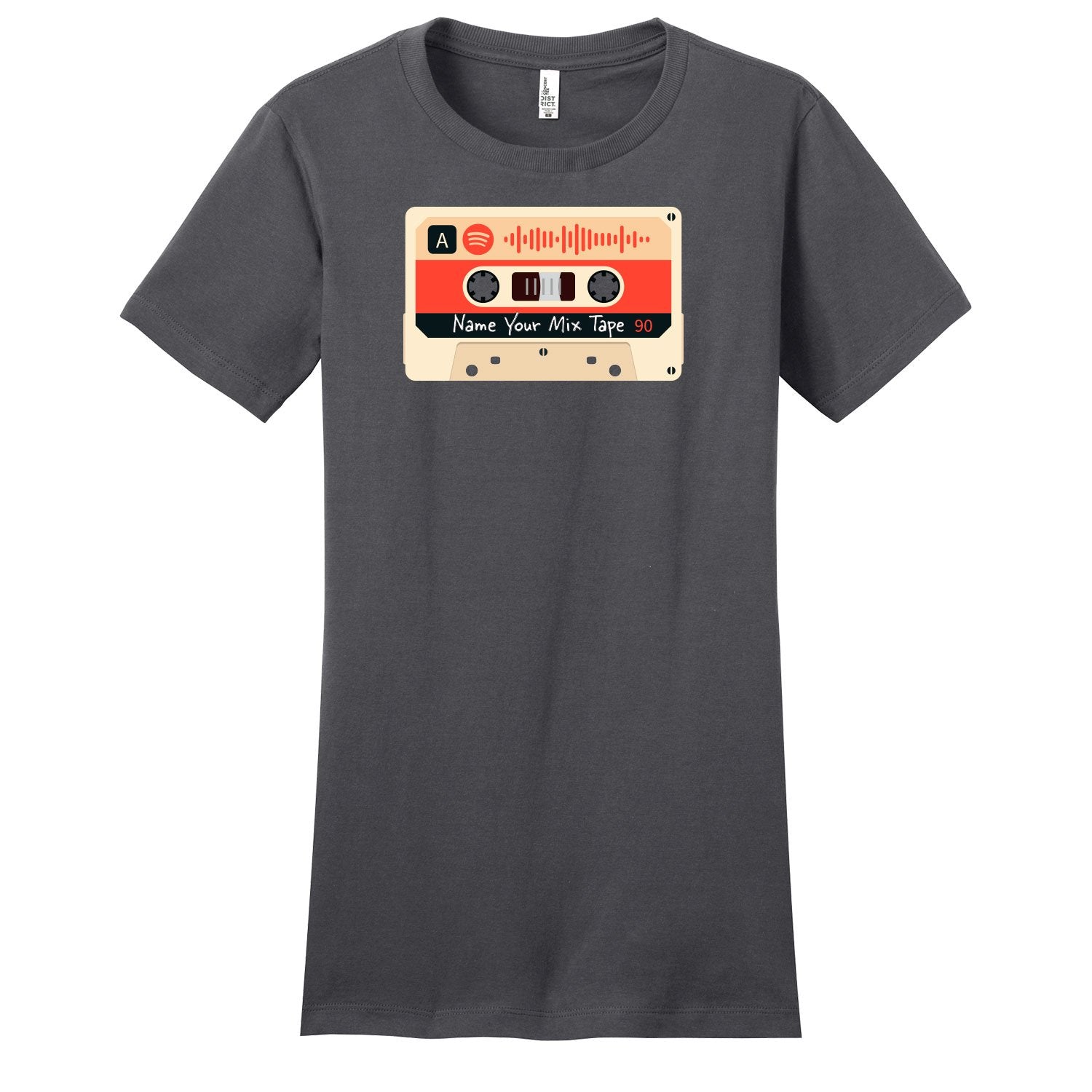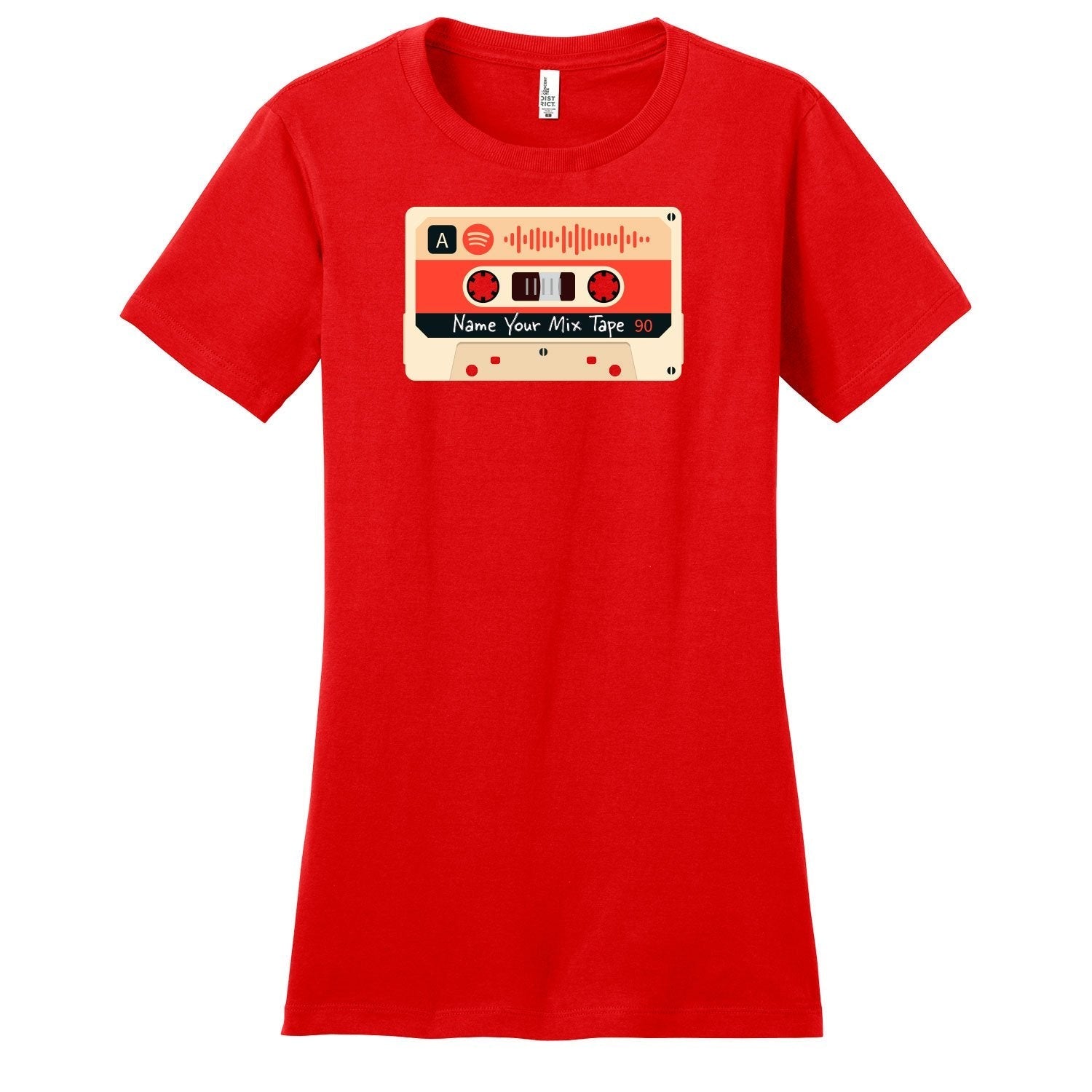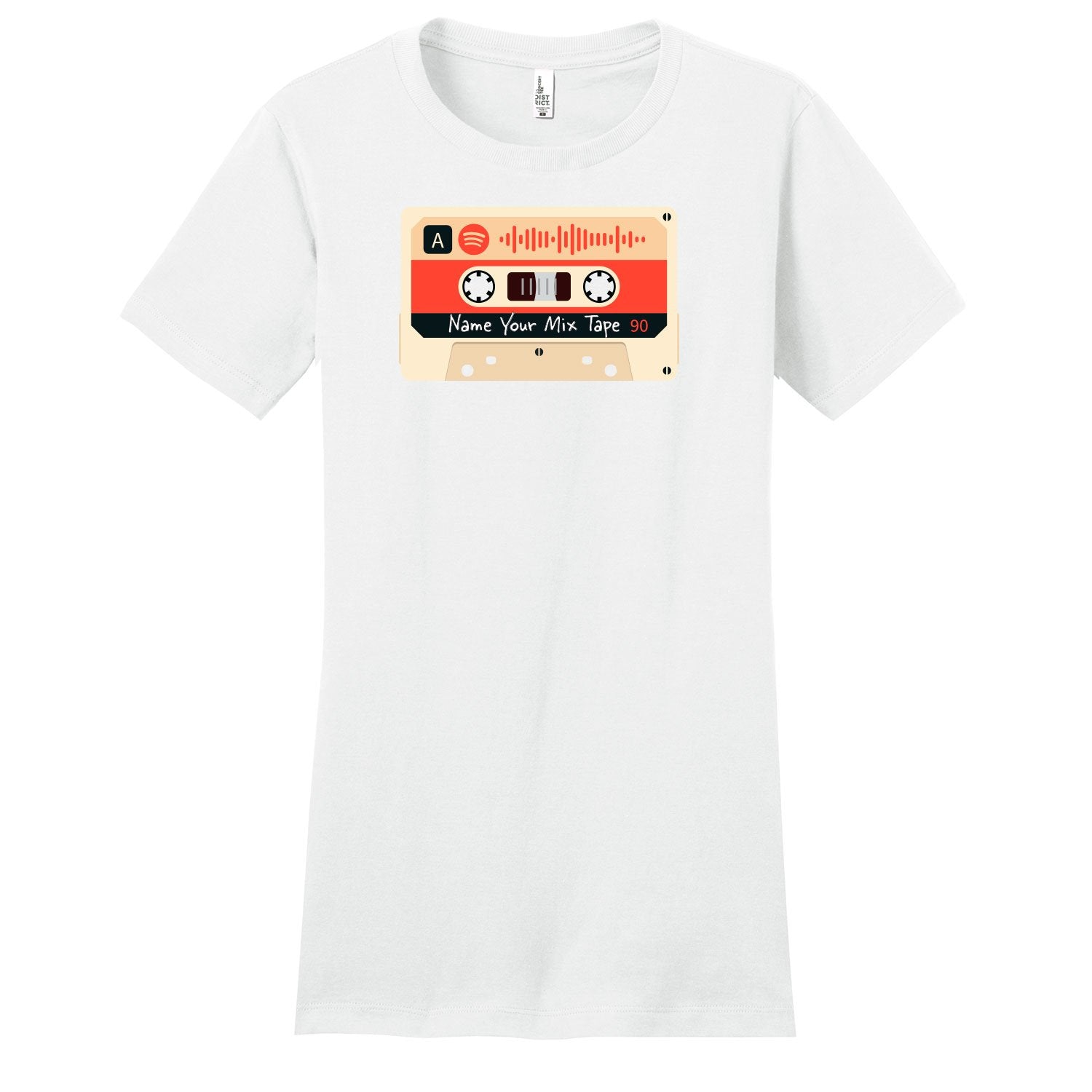 SCANNABLE: SPOTIFY MIX TAPE VOL. 9 WOMEN'S SHORT SLEEVE TEE
What is a Scannable Mix Tape Tee or Mug?
Basically, back in the day, <cough> the eighties, people used to make and give mix tapes that they would put together by copying songs from another tape or by recording songs from the radio.
Yes it was cheesy but it was cool. Now you can put together these mixes on Spotify and share them or even give them as a gift.
But instead of playing the tapes in your tape deck or Camaro, these tees or mugs can be scanned using your Spotify app and played just about anywhere. Anyone who scans your mix tape item will be immediately taken to the song, artist album or playlist you selected and hear the playlists you've poured your heart into.
The cool part is the playlists you create can have your custom name and image when viewing on Spotify.
What apps can you use to read Spotify Codes?
Spotify Codes can only be read from the in-app scanner on the Spotify app.
How do I scan a Spotify code?
For: Mobile and tablet
Tap Search in the menu at the bottom of the screen.
Tap the camera .
If you haven't yet allowed Spotify access to your camera, tap SCAN, then ALLOW.
Point your camera at a Spotify Code, or if you saved the code to your photo gallery, tap SELECT FROM PHOTOS.
What happens if I change the title of the playlist after creating a Spotify code?
You can change a playlist title and contents after creating a Spotify Code and it should still work as long as the URI does not change. (IE: DonÕt delete the playlist and create a new one, or change the username on your account if youÕre sharing your playlists.)
Does the Spotify Code need to have the Spotify Logo at the front?
Spotify Codes need the Spotify logo at the front so they can be read by the scanner.
Please note that all items are produced upon ordering to ensure the highest quality and customization. We kindly request your patience as we strive to fulfill your order within 2-3 weeks. This timeframe allows us to meticulously prepare and ship your items to ensure they meet your expectations. We appreciate your understanding and are dedicated to delivering a product that you'll be thrilled with.
Thanks for dropping by. Just a quick heads-up: we're all
about making sure you're super happy with your purchase. That's why we've got a policy in place where all sales are final – no returns or exchanges, but don't worry, we're here to guide you!
If you're a fan of a perfect fit (who isn't?), make sure to
give our size chart a peek before making up your mind. It's like having a fitting room right at your fingertips!
Got questions buzzing around your head? Feel free to shoot us an email before completing your order. We're here to make sure everything's
crystal clear before you hit that checkout button.
ALL SALES FINAL
For more information, please click here.