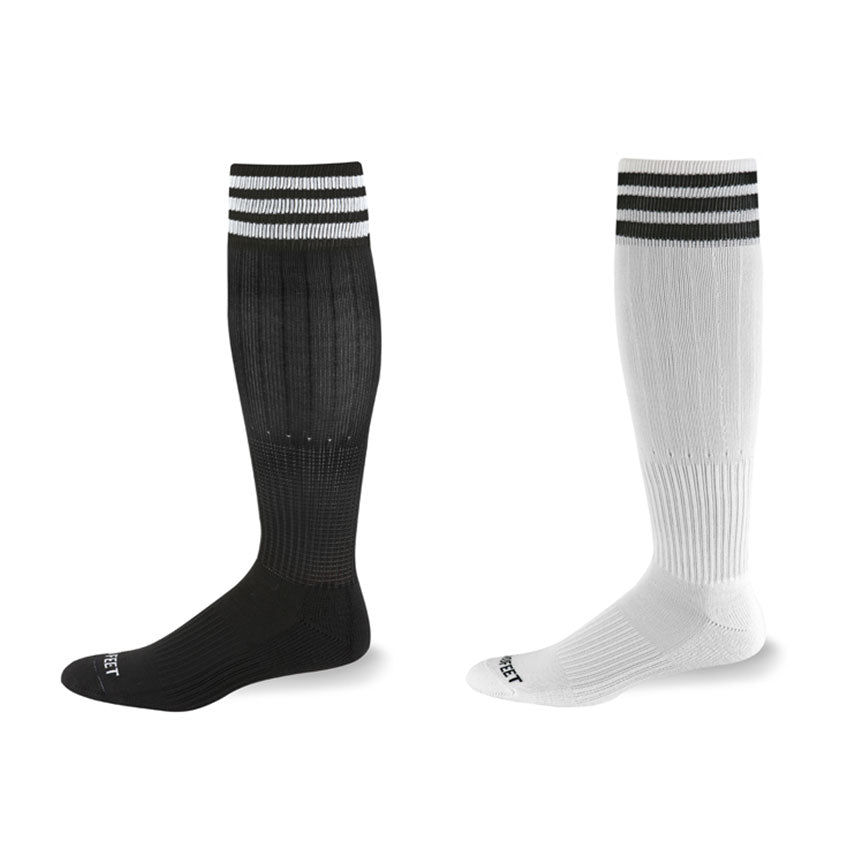 3 STRIP POLYPROPYLENE SOCCER PRACTICE SOCKS (MUST ORDER BY NOV 19)
PACKAGE:
ONE PAIR OF EACH COLOR
Elevate Your Comfort with Moisture-Wicking Socks
Experience a new level of comfort and performance with our high-quality socks, expertly crafted with a blend of materials designed to keep you at your best, every day.
Key Features:
Superior Moisture Management: Our socks are composed of 70% Polypropylene, 20% Stretch Nylon, and 10% Elastic, providing exceptional moisture-wicking properties. Say goodbye to discomfort from sweat and hello to freshness all day long.
Bacteria and Odor Resistance: The Polypropylene yarns not only keep your feet dry but also work tirelessly to resist bacteria and odors, ensuring your feet stay comfortable and odor-free.
Stay-Up Performance: The double-welt top ensures these socks stay in place, offering better stay-up performance. No more annoying slipping or constant adjustments.
Ankle and Arch Support: Our socks promote stability and provide excellent arch support for a comfortable fit and improved circulation, making them perfect for those on their feet all day.
Shock Absorbency: With a half-cushion foot, these socks are your go-to choice for shock absorbency, whether you're running, walking, or just need that extra bit of comfort.
Durable Construction: Featuring a knit-in heel and toe, these socks are designed for long-lasting wear, providing value and comfort.
Available Sizes:
268S (Size 7-9)
268M (Size 9-11)
268L (Size 10-13)
These socks are more than just your everyday essentials; they're your trusted partners in comfort and performance. Whether you're at work, hitting the gym, or enjoying a casual day out, our socks ensure you feel your best every step of the way. Choose quality and comfort with these exceptional socks.
Please note that all items are produced upon ordering to ensure the highest quality and customization. We kindly request your patience as we strive to fulfill your order within 2-3 weeks. This timeframe allows us to meticulously prepare and ship your items to ensure they meet your expectations. We appreciate your understanding and are dedicated to delivering a product that you'll be thrilled with.
Thanks for dropping by. Just a quick heads-up: we're all
about making sure you're super happy with your purchase. That's why we've got a policy in place where all sales are final – no returns or exchanges, but don't worry, we're here to guide you!
If you're a fan of a perfect fit (who isn't?), make sure to
give our size chart a peek before making up your mind. It's like having a fitting room right at your fingertips!
Got questions buzzing around your head? Feel free to shoot us an email before completing your order. We're here to make sure everything's
crystal clear before you hit that checkout button.
ALL SALES FINAL
For more information, please click here.